Profile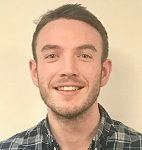 Nathan Clarke
The questions are still great in Week 4!
My CV
Education

University of Sheffield (2016-2017), University of Leeds (2011 – 2015), Leeds Becket University (2007-2010), Newcastle-under-Lyme college (2001-2003), Saint John Fisher High School (1990s)

Qualifications

Psychological Research Methods and Advanced Statistics MSc, Audiology BSc, Music Technology BSc

Work History

Audiologist (NHS and private), research assistant (linguistics and a sleep lab), a marketing agency, packing and shipping sunglasses…

Current Job

Name of MRC-funded unit/centre/institute:

MRC Institute of Hearing Nottingham/NIHR Biomedical Research Centre

My university:

University of Nottingham
About Me:

I'm interested in hearing, tinnitus and the brain – what can go wrong with them and what can we do about it?

Read more

I live with my wife in Nottingham. We've been married 2 years. We met in Leeds on New Year's Eve. We spent a long time living in Leeds and own a flat there together. I play a couple of instruments and used to make music. I once had one of my songs played on BBC Radio. I sometimes play Xbox against my brother. I'm much better than him. He doesn't agree.

My Work:

I research the link between phantom noises (tinnitus) and thinking (cognition)

Read more

Tinnitus is a really common symptom where people hear noises that don't have a source in the real world. This can be a little like hearing a car alarm constantly, but there's no car outside…

Some research suggests that people who have tinnitus might not perform as well on tasks that require certain kinds of concentration. This could be because their attention is being partly stolen by the tinnitus. The problem is, there are lots of different kinds of people with tinnitus and probably lots of different kinds of tinnitus. This means that the current scientific evidence is mixed.

My work involves pulling together all of the available scientific information on this problem and "systematically reviewing" it. This basically means taking a very hard look at the evidence to see what it's really telling us.

My Typical Day:

My typical day isn't so typical

Read more

Researching things for a PhD doesn't have a typical 'standard day', but I'll certainly spend a reasonable amount of time doing lots of things that most people do at work (like sending emails) – this is unavoidable!

However, the great thing about doing a PhD is that the rest of the time is yours to manage, so you can spend your time doing a lot of different activities. For me, this often includes reading, planning research, discussing ideas with colleagues and making coffee.

What I'd do with the prize money:

I'd develop and share an application that shows how distracting tinnitus may be when performing tasks requiring concentration.

Read more

I would use the prize money to commision an application that demonstrated how distracting tinnitus may be when performing a cognitive task. This would require users to select their most 'distressing' artificial tinnitus sound, then ask them to complete an established task from cognitive psychology, such as a Stroop task (if you'd like to know what this is, ask me during the interactive chat and you'll see something cool!).

While not intended to be scientifically accurate and demonstrative of the potential impact of tinnitus and cognition, I believe that this could help to raise awareness of the wider impact that tinnitus could have on a person's day to day life. The app would also include information and links to helping third-sector organisations such as the British Tinnitus Association and British Society of Audiology (BSA) where people can learn more about the impact and science of tinnitus.
My Interview

How would you describe yourself in 3 words?

Calm, friendly, curious

What or who inspired you to follow your career?

I was inspired by reading about the work of lots of interesting and clever people in popular science books (Daniel Levitin, Richard Dawkins, Steve Pinker)

What was your favourite subject at school?

I liked P.E. - I was very interested in the idea that I could get a GCSE by playing football

What did you want to be after you left school?

A famous musician

Were you ever in trouble at school?

All the time, on and off. School seemed like something I had to do, but didn't really want to do (I was more interested in trying to socialize at the time!)

If you weren't doing this job, what would you choose instead?

I'd probably choose to look after interesting animals. Manatees?

Who is your favourite singer or band?

I really like Elliott Smith, but I loved Blink 182 when I was at school (I still do)

What's your favourite food?

I eat most things without prejudice, but pizza if I had to choose.

What is the most fun thing you've done?

I've had a lot of great times with friends I met at university. So, going to university.

If you had 3 wishes for yourself what would they be? - be honest!

Money. More wishes. A more original idea.

Tell us a joke.

Why couldn't the bicycle stand up by itself? It was two tired.
My profile link:
https://ias.im/u.180991
---
---
---
---
---