Profile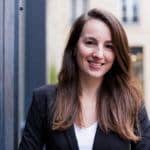 Marion Perrin
My CV
Education:

Classe prepa Nancy (2011-2011), Ecole Normale Superieure de Lyon (2013-2016), Mines Paris Tech (2016-2017)

Qualifications:

Bsc and Msc in Biosciences, Engineering degree

Work History:

Curie Institute (Paris), University of California (Santa Barbara), University of Cambridge. Kurma partners

Current Job:

1st year rotation PhD student in the Stem Cell and Regenerative Medicine program

Name of MRC-funded unit/centre/institute:

WT/MRC Cambridge Stem Cell Institute

My university:

University of Cambridge
About Me:

French biologist who has the chance to do science in Hogwarts

Read more

I never really planned to do research in the UK but I spent some time in Cambridge and fell in love with the city and the atmosphere. I had the opportunity to come back for a PhD and since then I feel almost like a wizard going around with my gown. It is also such a rich place where you get to meet highly interesting and inspiring people!

When I am not in the lab, I row with an amazing woman team called the Sirens. I also enjoy being crafty and discovering new places!

Altogether, I am always up for new challenges and I can do so because I am well surrounded by supportive human beings.

Read more

This year, I am trying out different labs and I will have to pick end of June the one I want to join for the next 3 years for a PhD! My main focus is stem cells, which are really cool cells. They have the ability to produce anything part of the body, from a lung to a liver but can also decide to hold back and keep being stem cell for some time.

My first project was on wound healing and how cells realise they are not in contact with each other anymore in an open wound. If we do understand how they come to this realisation, then we can help them to better close the wound.

Then I went on to growing cells called megakaryocytes which are the body's factory producing platelets. When you cut yourself and start bleeding, platelets are the little bricks which repair the blood vessel and help stop the bleeding. Up to now, when people did not have enough of these platelets, they received transfusions from donors. Our aim was not to rely on donors and produce platelet from people's stem cells.

Currently, I am working on how stem cells take decision. Just like people, they can become anything they want! And at some point they pick a specific job and commit to it. Unfortunately as cells cannot talk to explain how they make choices, I have to perform experiments to get the answers!

My Typical Day:

Typical and Science do not go together

Read more

Every day is different when you are a researcher and that is what makes it so exciting!

Common features include interacting with other scientists, performing experiments and analysing them, redoing experiments because usually they never work perfectly the first time you try them and reading about other people's work to get new ideas.

What I'd do with the prize money:

Start a stem cell comic book
My Interview

How would you describe yourself in 3 words?

Curious Pipette Enthusiast

What did you want to be after you left school?

Wanted to be a lot of things from a doctor to an artist. But for the time being, scientist is what suits me best!

Were you ever in trouble at school?

Not that I remember of

Who is your favourite singer or band?

Tough one, really enjoy old French music but also anything on which I can dance

What's your favourite food?

Anything sweet! From cookies to ice cream (especially the cookie dough flavoured one!)

If you had 3 wishes for yourself what would they be? - be honest!

Less rainy days in Cambridge - More happiness in the world - Make a positive impact through my work

Tell us a joke.

Q. What sound does a sleeping T-Rex make? A. A dino-snore.
---
---
---
---
---
---