Profile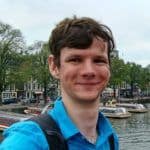 Leo Beacroft
Enjoying all the questions, keep them coming!
My CV
Education:

The University of Oxford 2013 – 2015 (incomplete) , The University of Bath 2009 – 2009, Bilborough College sixth form 2007-2009, Michael House School 2003-2007

Qualifications:

Bsc Biology, A levels in Maths, Physics and Biology, AS level Music Technology. GCSEs in Maths, English, English Literature, Double Science, French and German

Work History:

Research Assistant – Imperial College London 2015 – present, Juggling and Circus skills Teacher – 2013, Laboratory technician in Zambia 2011-2012, Chocolatier (also washing up) – All Things Chocolate 2007.

Current Job:

I'm write computer code to answer questions about how much disease there is in a population

Name of MRC-funded unit/centre/institute:

MRC Centre for Outbreak Analysis and Modelling

My university:

Imperial College London
About Me:

Friendly scientist, juggler and cricketer – I like to solve problems at work and hang out with friends and family in my spare time.

Read more

I'm Leo, a 26 year old scientist living in London.

Interests (outside of science!)

I do a lot of juggling and circus related things, I go to two juggling clubs where I hang out with other keen jugglers, diabolists, unicyclists. They're very casual social events, but I try to work to improve and learn a new trick every now and then.

I'm also a big cricket fan, I like to go and watch games during the summer and also play as part of a team. We all admit we're not actually very good at cricket, but we're all enthusiastic and have fun anyway. We play friendly matches against other teams around London – most of which we lose – but it's the taking part that counts right?

The rest of my time I spend watching TV, movies, listening to music, reading and most importantly spending time with friends and family.

Read more

Infectious diseases, or "bugs" spread from person to person (like the common cold). Often when one person gets a bug and gets ill, some of their friends and family get sick too. Scientists like myself try to find mathematical equations to work out how many people will get sick and how quickly a bug will spread. This helps to find ways to stop bugs from spreading and preventing people from getting sick.

My Typical Day:

Reading the latest science news, then working on some coding problems and sometimes writing up my work.

Read more

I often start the day by reading some of the latest science news and research. I'll then make a cup of tea and make a plan for the rest of the day.

Coding – My work is almost all done on a computer. This normally involves making some changes to the computer code that I use to answer my research questions. Often when programming, I'll have made some mistakes (this is really common!) so the program produces some strange results and I'll have to try to figure out where the mistake in the code is. Sometimes this can be easy but occasionally it's painfully slow! When things are working properly I'll get the results of my work and try to make them easy to understand so I'll make graphs and charts to help explain my work to other people.

Writing – In my job it's important to publish your work in scientific journals so that other people can read about your research. This can help other scientists with their own research. I'll spend some of my time writing my work, getting it ready to send to a scientific journal, trying to make sure that it's clear and easy to understand.

Presenting – Sometime I'll go to a meeting to present my work to other scientists.  Before the meeting I'll spend some time making a presentation in Powerpoint, and practice saying the presentation out loud to make sure I can explain everything easily.

What I'd do with the prize money:

I'd design games to teach people about how infectious diseases spread.
My Interview

How would you describe yourself in 3 words?

Friendly juggling scientist

What did you want to be after you left school?

I wanted to be a chocolatier (which I was very briefly!)

Were you ever in trouble at school?

Occasionally, but I was mostly pretty well behaved.

Who is your favourite singer or band?

So many choices, maybe the Cat Empire or the Gaslight Anthem

What's your favourite food?

Pizza

If you had 3 wishes for yourself what would they be? - be honest!

Make a positive contribution to the world, to spend lots of time with close friends and family, to stay healthy!

Tell us a joke.

I have two goldish, I called them One and Two, so that if One dies I still have Two left.
---
---
---
---
---
---