Profile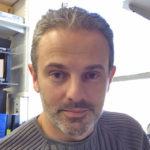 Laurent Dupays
Curriculum Vitae
Name of MRC-funded unit/centre/institute

Francis Crick Institute

Education:

University Aix-Marseille

Qualifications:

Ph.D. in cellular and molecular biology

Current Job:

Research scientist
Favourite thing to do in my job: Looking down a microscope to find out the result of an experiment and hoping to see something exciting and new

About Me

I'm a French biologist, contemporary art amateur, sushi lover, living in London

Read more

After a PhD in molecular biology in the south of France, I moved to London for what was supposed to be a short research contract. It was 15 years ago… and I'm glad I stayed!

When I am not travelling the world (I am flying to Japan in May to meet other scientists from around the world so I will be able to answer your questions when back as well on how different it is there from the UK), I enjoy hammock camping by the sea.

My Work

I copy and paste genes around to know how your heart is beating too slow or too fast

My Typical Day

Check up on my colony of genetically engineered mice, look at fluorescent microscopy images and three-dimensional heart models then write and talk about it

Read more

There is no such thing as a typical day in the lab and this the exciting part of it. If you cannot see yourself doing the same thing over and over again, research might be the job for you. Don't get me wrong, there are weeks where you have to repeat the same experiment until it works but generally when it is done you go on to do something else.

More than typical days, there are typical sequences in research. You generally have an outgoing experiment which needs to be followed up to some extent. Then if it is your lucky day you have some new and even exciting results that need to be analysed. The fun part is trying to make sense out of those results. It can sometimes be challenging but it is exciting, like trying to solve a puzzle. If you are not sure about the solution you can talk to your colleagues about it, either in team meetings or even international conferences. Finally, when you are sure that everything makes sense, you can write a story about it and publish your results in a scientific journal for all the others researchers to know about it. The whole process can take up some time but when you are finished it can be quite satisfying. Then you can start everything again on a new problem!

What I'd do with the prize money

I would use the prize to promote science to the general public and fuel the next generation's curiosity

Read more

I would use the prize to maintain and create new activities in a genetic engineering workshop what I am actually contributing to at the Francis Crick Institute.

Those workshops are aimed at students aged 14 to 18 years old to make them discover the basic techniques of genetic engineering. Those workshops are hands on and good fun. They allow to explore the scientific but also social and ethical questions about gene editing.

My Interview

How would you describe yourself in 3 words?

Understanding, easy-going and fun

What's the best thing you've done in your career?

Encourage students to love science

What or who inspired you to follow your career?

Christiaan Barnard who performed the world's first human-to-human heart transplant

What was your favourite subject at school?

Art

What did you want to be after you left school?

A daredevil archaeologist like Indiana Jones

Were you ever in trouble at school?

Not that much ;-)

If you weren't doing this job, what would you choose instead?

Wildlife ranger

Who is your favourite singer or band?

The Pixies

What's your favourite food?

Sushi

What is the most fun thing you've done?

Fed buffalos with carrots near Montreal

If you had 3 wishes for yourself what would they be? - be honest!

I would like to travel the world in a day, master painting as Picasso and read in people's mind!

Tell us a joke.

I asked my French friend if she likes to play video games. She said, "Wii"
---
---
---
---
---