Profile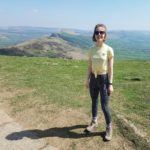 Joanne Sharpe
Gutted that the event is ending soon - it has been an amazing experience!
My CV
Education:

Wolfreton School and Sixth Form College 2006-2013, University of York 2013-2017

Qualifications:

A-levels in Biology, Chemistry, Maths; MBiol Integrated Masters in Biology

Work History:

I am the eternal student!

Current Job:

My university:

University of Manchester MRC DTP
About Me:

When I'm not thinking about science, I love to get outside and climb hills, bake a cake, or play board games with friends.

Read more

I live with my boyfriend in a flat in Manchester. I'm from Hull and we have a large print of the Humber Bridge on the wall to remind me of home (and because it looks awesome). I'm a keen cook and we have an arrangement where I do all the cooking and he does the washing up. My favourite meal to cook is a good curry because you can make it so many different ways; I don't think I have ever made the same curry twice. I also enjoy baking; the best cake I ever made was a lemon and carraway roulade. Aside from food, I love being outside in the countryside and I actually prefer holidaying in the UK to abroad.

Read more

Fruit flies (Drosophila melanogaster, to give it its latin name) are surprisingly useful in biological research. Tonnes of important discoveries have been made using them and the most recent Nobel Prize was awarded to a group of Drosophilists (fancy name for people who work with flies). In fact, we share about 75% of our DNA with flies!

Because they are so small and cheap, you can keep thousands and do lots of experiments and generate lots of data. Flies actually have similar behaviours to humans: they can be aggressive, lose motivation, and have memory. Flies have been used to study all kinds of diseases such as epilepsy and rare genetic conditions.

I am interested in how proteins can build up in our brains as we age and cause irreversible damage, causing a type of dementia called frontotemporal dementia, named after the parts of the brain that are affected. Not much is known about this rare type of dementia, but we do know that large proteins build up in the brain causing brain cell death. I am putting these proteins into flies and looking at what happens to the flies to work out what the proteins are doing to kill cells.

My Typical Day:

Coffee, reading, experiments, snacks, thinking about science, looking after my flies, tea.. Not necessarily in that order.

Read more

The wonderful thing about being a scientist is that no two days are the same, and every day has the potential to have a EUREKA moment. Not that this happens very often.. The reality is that I spend half of my time pondering why my experiments aren't working and how to fix it, but this is half the fun!

After coffee, I usually head over to the Fly Facility where my fruit flies live. I will check they are all happy and set up any genetic crosses I want to do (this is where you put male and female flies with different traits in a tube so they mate and produce offspring that I want to test). This takes up a lot of my day as I have about 1000 flies.

I might also be doing some cool experiments, like looking at cells under a microscope, watching flies climb up a tube, or fly larvae crawl around a dish.

Then with any time I have left I will be drinking cups of tea, snacking, reading scientific papers, or working on my latest blog post and outreach activities.

What I'd do with the prize money:

I'd use it to make a cool activity that I could take to events with schools or colleges to show how we can bring different parts of science together to make amazing discoveries.
My Interview

How would you describe yourself in 3 words?

Inquisitive, slightly wacky

What did you want to be after you left school?

I was obsessed with CSI, so I really wanted to be a forensic scientist.

Were you ever in trouble at school?

I was a bit of a chatterbox but always managed to avoid detention.

Who is your favourite singer or band?

I have such a varied music taste.. either Elton John or Coldplay.

What's your favourite food?

Peanut butter, especially on porridge.

If you had 3 wishes for yourself what would they be? - be honest!

1) I had an incredible memory so I could remember every scientific paper I've ever read. 2) I would love to have a lifetime supply of peanut butter. 3) I wish it wouldn't rain as much in Manchester.

Tell us a joke.

I love cheese puns. They're just grate. I don't give edam about the rest.
---
---
---
---
---
---