Profile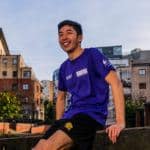 Jason Chu
My CV
Education

Qualifications

Work History

Current Job

Name of MRC-funded unit/centre/institute:

University of Manchester MRC DTP
About Me:

I'm a Glaswegian, who's found himself wandering to Manchester to do science.

Read more

After graduating from the University of Glasgow, I moved to Manchester to start my PhD.

When I'm not busy in the lab, you'll find me running, taking photos, watching Netflix, or being a mediocre cook. My favourite tv show is probably The Office (US), and I have watched it far too many times it's almost embarrassing.

As an avid fan of breakfast food, I am always keen to try out new brunch places – and it's almost always Eggs Benedict.

This is incredibly biased as a Scotsman, but one of my favourite spots in the world is the Isle of Skye. I love it so much, I've got the island tattooed on my shoulder and I'm going to run a half marathon there this summer.

My Work:

I use 3D imaging to understand how our immune cells are involved in wound healing and skin repair.

Read more

I bet we've all been clumsy enough to have fallen over and gotten a wee cut or scrape. Everyone has been there. However, it's never really a problem.

Within minutes it stops bleeding. Within hours we start to get a scab, which we pick at and starts to bleed again. Once we finally have the willpower to leave the scab alone, and a few days have passed we notice are skin starts to close up. By a week or so, it's either completely healed or a we have a funny looking scar that always looks pretty impressive.

However, if people with diabetes get a cut or scrape – they don't heal as well as others. This can be a serious problem if wounds get infected and eventually get so damaged that amputation is the only solution.

My job is to find out how this healing process works in healthy and diabetic wounds, and how the immune system is involved. To do this, I am going to use 3D imaging techniques to find out what's happening inside wounds in real-time.

My Typical Day:

No two days are the same. It varies between lab work, analysis, demonstrating, science communication and outreach programs.

Read more

I have a tendency to start the day in a similar way. Turn up in the office. Brew myself a black coffee. Check my emails, and answer anything urgent.

After that it can go in any direction:

Carefully planning experiments
Running said experiments with skin cells or mice
Analysis and presentation of results
General lab duties (we all work together)
Meetings
Demonstrating – assisting undergraduates in their labs
Science communication – blog writing, event management, presenting
Outreach – schools, retirement homes, etc
Attend seminars and classes (I don't know everything, so I'm still constantly learning!)

What I'd do with the prize money:

Further promote the "Have You Heard" project I am part of, which is aimed at clearing the murky haze we often see in science in the media.

Read more

So I am part of a fantastic project with several other University of Manchester students called, "Have You Heard". This project was set up with the aim of clearing the haze that often surrounds scientific discoveries and connecting the line between science and the headline.

We've delivered several sessions to community centres, radio shows and retirement homes, by giving our own anecdotal experiences of the journey from an experiment to a news story, and discuss what could go wrong along the way. More recently we've provided some tips and advice for our audiences to gain the critical skills scientists use when reading science in the news!

However, I personally feel an untapped market at the moment is engaging with school students and informing them of this bridge between science and media. Furthermore, give them the tools on how to be aware of what is evidence-based science and what is plain nonsense.
My Interview

How would you describe yourself in 3 words?

A "good scotch egg"

What or who inspired you to follow your career?

Going down the academic and PhD route wasn't something I thought about until near the end of my degree. However, during my last couple years I was surrounded by so many great individuals that guided and pushed me. This was everyone from friends, family and academic mentors.

What was your favourite subject at school?

I can't narrow it down to one, but it would have to be either Biology or Economics

What did you want to be after you left school?

I wasn't sure, but I was keen to do something in science.

Were you ever in trouble at school?

I was normally a goody-two shoes but one time I got caught talking in assembly and had to write a letter of apology!

If you weren't doing this job, what would you choose instead?

Hmmm, so many options. Maybe teaching, or something in the media or government.

What's your favourite food?

Eggs Benedict

What is the most fun thing you've done?

A spontaneous road trip up to the Isle of Skye with my pals where we climbed up the Old Man of Storr and swam in the Fairy Pools.

If you had 3 wishes for yourself what would they be? - be honest!

1) Own a cafe. 2) Have all my pals move and live in the same city as me. 3) Have a pet panda.

Tell us a joke.

What kind of cheese would you use to lure a bear towards you? Camembert.
My profile link:
https://ias.im/u.180990
---
---
---
---
---