Profile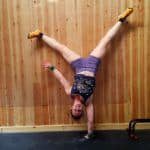 Helen Cooper
My CV
Education:

Birkenhead High School for Girls 1998-2005, University of Manchester 2005-2008

Qualifications:

A-Levels in Biology, Chemistry and Religious Studies. BSc (hons) degree in Zoology, IAT Level 2, 3 and 4 in Laboratory Animal Science

Work History:

I've worked for the MRC since 2009. At University I had a summer job looking after all of the insects, which included cleaning out cockroach tanks, taking care of tarantulas and beetles, and weighing grubs. I've also worked as a waitress, in an office for the NHS and volunteered at a kennels and cattery, and a wildlife rescue centre.

Current Job:

Breeding Facility Manger for the Biological Services Team

Name of MRC-funded unit/centre/institute:

Laboratory of Molecular Biology
Read more

I live with my partner in Soham, Cambridgeshire. We recently bought our house and are currently having fun smashing down walls and tackling the overgrown garden.

We have 2 guinea pigs (Basil and Delphi) and a tank full of guppies, a zebrafish, 2 plecs and 2 snails.

I do Crossfit, which is a mixture of Olympic Weightlifting, gymnastics and bodyweight exercises. I like to enter strongman competitions and am Northampton's Strongest Woman 2016! I can also do a one handed handstand!

I enjoy doing obstacle races for fun, which results in lots of bruises and getting covered in mud!

I'm a member of Rock Vox Choir and we sing at local events and even some big festivals.  We sing everything from Alice Cooper to The Beatles, Jessie J to Justin Bieber and are currently learning 'This Is Me' from The Greatest Showman.

I'm also a volunteer First Aider for St John Ambulance so spend most of my summer weekends at events, such as local fetes and festivals, making sure anyone that gets hurt can be patched up and sent back into the fun.

When I'm not weightlifting, singing or wrapping people in bandages, I like to play RPGs on my Xbox One; although it gets pretty addictive so I try to just play in the winter when it's cold outside! I still haven't completed Fallout 4…

Currently watching Westworld and Fear the Walking Dead; and anything good I can find on Netflix. Eagerly awaiting the next season of GoT!

Read more

I work as a Breeding Facility Manager so the main role where I work is to breed mice for use in research studies.

I manage 3 breeding rooms with 4 people working in each room. 1 supervisor and 3 animal technicians. These teams look after the animals within their rooms and complete requests sent by the researchers.

When I get into work, I check the sign in book. If any of my staff members are off sick, I make sure their room has help so that they can still carry out their work.

I visit the 3 rooms that I manage and make sure they have a plan for the day.

If any mice are sick I go into the room to do a health check. One of my roles is Named Animal Care and Welfare Officer, so it's my responsibility to make sure any sick mice get appropriate treatment and care. I might call the Vet for advise about which medicine or treatment to use.

All of the mice need to be visually checked at least once a day (this is the law) to make sure the animals are healthy and have enough food and a water supply.

Once these morning checks are completed; the animal technicians in the rooms will start their husbandry tasks. Husbandry means the 'care of animals' so in this case the animals will have a thorough health check and their cage will be cleaned out if necessary.

If any pups (baby mice) have been born overnight we record this on our computer database.

Other jobs that might need doing are:

Weaning (splitting male and female pups when they are old enough to leave their parents)
Setting up breeding pairs (putting a male and female mouse in a cage to breed and produce pups)
Taking ear biopsies (taking a small notch of ear to send to the lab to see what genes the mouse carries and also to allow us to identify them)
Topping up food (making sure the mice have enough to last them for the rest of the week)

What I'd do with the prize money:

I'd like to run some Open Days for students to tour our facility and learn all about why animals are important in research and show them how they are cared for.
My Interview

How would you describe yourself in 3 words?

Strong, Helpful and Adventurous

What did you want to be after you left school?

I knew I wanted to work with animals but wasn't sure what I wanted to do exactly! I originally wanted to be a vet.

Were you ever in trouble at school?

All the time! Mainly for chatting!

Who is your favourite singer or band?

I like so many different bands! My favourites are probably Bastille, The 1975 and Imagine Dragons.

What's your favourite food?

I could literally eat crisps for the rest of my life... Salt and Vinegar flavour!

If you had 3 wishes for yourself what would they be? - be honest!

1. Have enough money that I didn't have to worry about it (everyone's wish, right?!) 2. I wish there was a way for us to clear up all the plastic in the seas and that we could recycle everything 3. The platypus is my favourite animal but I've never actually seen one, so I'd love to see one it it's natural environment.

Tell us a joke.

What do you call a man with paper underpants?...........Russell!
---
---
---
---
---
---