Profile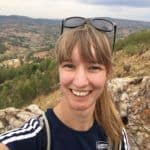 Hannah Farley
My CV
Education:

Ipswich School (2005-2012), Oxford University (2012-now)

Qualifications:

Work History:

Current Job:

Name of MRC-funded unit/centre/institute:

MRC Harwell Institute

My university:

Oxford
About Me:

I'm a genetics researcher and when I'm not in the lab I love being outdoors in the sunshine.

Read more

I live with my friends in Oxford. We are not allowed pets is our house (cry), but my parents have two dogs that I get to cuddle on a regular basis. I pretty much know Hamilton the musical by heart. I'm a leader with the Girl Guides, and I love camping and sleeping under the stars, though to be honest I also just like making big campfires and toasting marshmallows. I learnt to row at uni, and still spend a lot of time messing about in boats on the river. I have a sister and a brother who are both studying abroad this year, in Colorado USA and Tokyo respectively. I was lucky enough to go to Rwanda in Africa for a month last summer with the Girl Guides, which was the most incredible experience. My favourite TV show is either Love Island or Game of Thrones. Red and purple sweets are the best, though lemon sherberts are great and peanut butter cups beat them all.

Read more

The developmental biology part:

Developmental biology is all about how you got from being an egg and a sperm to being a baby. The first three months of your life (when you were still in your mum) is all about making you – growing arms and legs and hands and feet, making your organs and putting them in the right place. It's a really cool process because there's just so much that has to be done, and your cells have to make so many decisions about who goes where and becomes what. There's a lot that we still don't know about it. The decision that I work on is about deciding your left and right. This isn't about your left hand vs right hand, it's about the left and right sides of your internal organs – your heart, lungs, guts, all that stuff.

Your heart is really different from on the left compared to the right side – the sides do slightly different things. This left-right decision is made at about 7-8 days after fertilisation in the mouse, and roughly 21-28 days after in humans. If you get that first decision wrong, you can wind up with all your organs a mirror image of where they should be (which is actually fine, 1 in 10,000 of us have this and most people would never know they have it). But if it gets really messed up, you can get really severe heart and organ defects.

I work on a gene that, when you delete it in mice, makes them have these severe heart defects. We wanted to  know why, and whether the mouse is affected in any other way. So that's basically been my PhD project so far.

The genetics part:

The thing that makes the left-right decision in your early embryo is these little hairs on the surface of a particular part of the embryo (the node). They move fluid from left to right and that's what decides your sides. Here is a picture: You also (now, not as an embryo) have little hairs lining your airways – snot traps bacteria and other nasties, then the hairs move all the trapped gunk out of your airways. So if you have a mutation that affects the movement of these little hairs (officially called cilia), then you have an increased risk of heart defects (left-right decision problems) and you get lots of snotty chest infections – you actually often get serious scarring in your lungs because of all the infections, so it can be genuinely quite scary. The mutant mice I work on have similar defects – we think there might be a human out there somewhere with the same mutation, maybe with the same disease.

My Typical Day:

I can normally be found taking videos of the early mouse embryo.

Read more

Get in normally 8-8:30am.

Check my overnight genotyping results (see below)

Morning – get on with general lab work. Things like making DNA, extracting RNA from tissues, putting DNA into bacteria to grow up large amounts of it. I tend to do this stuff in the morning, and keep the afternoons free for videos.

Mouse embryo videoing – 1-3pm. I either video tiny cilia rotating in the node, or I coat the node with fluorescent beads. Click on the hyperlinks to see videos of these – I can then analyse the videos and see if the flow isn't working and the little hairs are beating weirdly in the mutants. I wind up with heat maps like this (red = strong flow, blue = weak/no flow.

Genotyping – I need to set up some reactions to see whether the embryos I was videoing are mutants. I get a mix of embryos (some normal, some mutant) in each lot of videos, so I set up the reactions for this to run overnight because it takes a couple of hours.

If I don't have videoing to do, I use the afternoon to continue the morning's work, or to process and analyse my data into pictures/diagrams/tables. This always takes longer than I think it will but is an important part of science.

Sometimes I have to go over to the animal facility to deal with mice. You can take an online tour of it here: http://labanimaltour.org/harwell

What I'd do with the prize money:

I want to 3D-print models of the embryos I work on so you guys can really understand what I do.
My Interview

How would you describe yourself in 3 words?

Tenacious, adventurous, happy.

What did you want to be after you left school?

A doctor

Were you ever in trouble at school?

Yes... But to be honest I probably get in more trouble now with our health and safety department, I'm bad at remembering safety specs and I was using cholera toxin a couple of months ago, which made them very nervous :/

Who is your favourite singer or band?

At the moment it's a toss up between Haim, Isaac Gracie and Blossoms. But also the new Ariana Grande song is a banger.

What's your favourite food?

Chinese takeaway and Ben and Jerry's Phish Food (not together, one after the other).

If you had 3 wishes for yourself what would they be? - be honest!

I wish for a year out to travel the world. Wish number two: endless puppy cuddles whenever I want. Wish number three: a robot to set up my reactions for me.

Tell us a joke.

What kind of cheese can you use to hide a horse? Marscapone! (ask me for more cheese jokes as well as about science, they're my fave type of joke)
---
---
---
---
---
---