Profile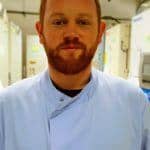 Eóghan Forde
My CV
Current Job:

Name of MRC-funded unit/centre/institute:

MRC Centre for Inflammation Research

My university:

University of Edinburgh
About Me:

My name is Eóghan Forde (pronounced Owen) and I am currently finishing my doctoral training in precision medicine for a type of blood cancer. I work at the Universities of Edinburgh and Glasgow.

Read more

I live and work between the cities of Edinburgh and Glasgow. I enjoy outdoor swimming and food!

If I am not working you will usually find me drinking coffee and eating loads of bananas.

Read more

What is leukaemia

Leukaemia is a blood cancer. Blood cells are made in your bone marrow. The bone marrow is the soft inner part of some of your bones.

In most types of leukaemia, abnormal white blood cells are made in the bone marrow. These cells can get into the bloodstream and circulate around the body. They do not develop properly and so do not work normally. They don't give you the protection from an infection that they should. Because there are too many of these abnormal white blood cells, they stop the bone marrow producing enough healthy blood cells.

This video explains what leukaemia is:

https://www.youtube.com/watch?v=UXfANnRyStM

There are different types of leukaemia. They are divided into two main groups:

acute leukaemia
chronic leukaemia

Acute and chronic leukaemia

Leukaemia is acute or chronic depending on how quickly it progresses.

I study chronic myeloid leukaemia (CML) which tends to develop very slowly. You may have chronic leukaemia for months or years without having many symptoms. It may be stable for months or years before it gets worse.

Blood cells and leukaemia

To understand why leukaemia affects you the way it does, it helps to know how blood cells are normally produced and what they do.

Normally, blood cells are produced in the bone marrow. The body makes them in a controlled way. All blood cells start as the same type of cell, called a stem cell. This earliest stem cell then develops into:

red blood cells (erythrocytes)
platelets
white blood cells (granulocytes, monocytes or lymphocytes)

The type of chronic leukaemia you have depends on what type of white blood cell has become cancerous. In CML, it's the granulocyte white blood cells that are cancerous.

Philadelphia chromosome

Most body cells contain chromosomes. Chromosomes are made up of thousands of genes. There are 23 pairs of chromosomes in human cells and each chromosome has a number from 1 to 23. These are a bit like an instruction manual for building the body and keeping it healthy.

Most people with CML have an abnormal chromosome called the Philadelphia chromosome. This happens when a gene called the ABL1 gene on chromosome 9 breaks off and sticks to a gene called the BCR gene on chromosome 22.

This produces a new gene called BCR-ABL1, known as a fusion gene. The changed chromosome 22, which looks shorter than normal, is called the Philadelphia chromosome.

This process is called chromosomal translocation. It is a known type of genetic abnormality that can happen when a cell divides to form new cells. It is not something that is inherited. So, you were not born with it and it can't be passed on to your children.

The Philadelphia chromosome makes the cell produce a protein, called tyrosine kinase, which encourages leukaemia cells to grow and multiply.

Doctors can pick up the Philadelphia chromosome on blood and bone marrow tests and use it to help diagnose CML and to monitor response to treatment.

This video explains what Philadelphia positive leukaemia is:

https://www.youtube.com/watch?v=laFmMBZvMtw&feature=youtu.be

Source: CRUK, https://www.cancerresearchuk.org/about-cancer/chronic-myeloid-leukaemia-cml

My Typical Day:

I like to start early.
Most days I will need to be at work to feed my cells. These cells are taken from leukaemia patients and healthy donors and are used for my experiments.
My Interview

What did you want to be after you left school?

Marine Biologist

Were you ever in trouble at school?

No...my mum might disagree!

Who is your favourite singer or band?

I will listen to anything good!

What's your favourite food?

Empire biscuits

Tell us a joke.

What do you call a cheese that's not yours? Nacho cheese!
---
---
---
---
---
---