Profile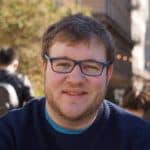 David Grainger
My CV
Education

Sir Thomas Rich's School, Gloucester (2007-14) University of Birmingham (2014-2017)…………… University of Oxford (2017-2021)

Qualifications

A-levels in Chemistry, Biology and Maths……………… Bachelor in Medical Science (Hons)

Work History

I have been a student my whole life. At the end of my four year PhD I will finally get my first job!

Current Job

PhD Student in Stem Cell Research

Name of MRC-funded unit/centre/institute:

Weatherall Institute of Molecular Medicine

My university:

University of Oxford
About Me:

I'm a 21 year old PhD student living in Oxford. I enjoy taking pictures, going to rock concerts/festivals and working hard on my science.

Read more

I live in Oxford with my close friend who I met during my undergraduate degree at the University of Birmingham but I am from Gloucester.

I enjoy going travelling (can't stand staying in one place) – mostly been around Europe so far but have ambitions to go further afield one day.

Really into my music – listen to it pretty much all day, except when in meetings of course. Unfortunately cannot play a musical instrument but would love to learn guitar or drums so I could play along to my favourite songs.

Would love to stay in science my whole life and the dream one day is to have my own lab with my own students and research associates. Maybe one day!

My Work:

I guide human stem cells to make blood in a test tube

Read more

Almost all the blood in our bodies from before we are born, to the day we die, comes from blood stem cells. How these stem cells are made while we are developing in our mother's womb is still not fully understood.

Because of the ethical and moral limitations of using human embryos, I use stem cells grown in a dish. This type of stem cell (yes there are lots of different types!) can make all the cell types in the human body; from heart and liver to nerve and blood. To make these different type of cells, scientists can add particular molecules at specific times to the stem cells food to cause them to gradually change to a different type of cell.

I use studies in mouse, fish and frog embryos done by other scientists to try and give human stem cells the correct signals to make blood stem cells.  I use multiple scientific techniques to work out how well these molecules are working and whether they are following the right path to becoming blood stem cells. One of the most interesting things about studying stem cells is working out how two types of cell (for example a heart cell and a blood cell) can look and behave so differently even though they have the same genetic code and come from the same cell.

If we successfully made blood stem cells, they could one day be used to replace the blood stem cells given by bone marrow donors to blood cancer patients.

Please ask lots of questions – I love to talk about my work!

My Typical Day:

Caring for my stem cells, experimental discussions, data analysis, presenting work and drinking LOTS of coffee

Read more

One of my favourite things about a life in science is that no two days are the same so a typical day is pretty difficult. The working hours are long but most bosses are flexible with when in the day you work (some people work from 2pm to 11pm).

I normally get in at 9:30 and plan out my day. I normally start by going to check on my cells, make sure they are not infected, feed them or add some more molecules to them. Then I will typically have a meeting with my boss or others in the lab to talk about future experiments or new data that needs to be talked through.

Normally I will read some publications (where scientists write about the work they have done and share it with the world) and go for lunch with lab mates. I normally leave the afternoons for experiments where I might be looking at what genes are on in my cells, taking pictures of them to see how they have changed with different molecules or taking the RNA and DNA out of them to look at more closely. This can go on all afternoon and sometimes into the evening but I am normally home by 6/7pm.

What I'd do with the prize money:

Show how different scientific research is to school science by making YouTube videos on the day-to-day lives of scientists

Read more

When I started my degree in Medical Science and was shown around the research labs I was shocked to find how different they were from the labs I had seen at school. This only increased when I started working in the labs myself where I found many of the techniques and practices I had learnt were not used in the lab (no Bunsen burners?!).

I found myself loving the research labs many many times more than I ever did the science labs at school and wondered why I was never introduced to this earlier. With this in mind, I would like to show school students what it means to be a scientist and what our day-to-day lives are really like.
My Interview

How would you describe yourself in 3 words?

Friendly, curious & enthusiastic

What or who inspired you to follow your career?

I had a great mentor at my last university who really showed me what it meant to be scientist and led me to believe in my own ability. Shout out to Dr. O'Neill.

What was your favourite subject at school?

Biology (mainly the human bits)

What did you want to be after you left school?

A Medical Doctor

If you weren't doing this job, what would you choose instead?

I'd probably be very bored and sad but I'd most likely drift towards photography

Who is your favourite singer or band?

Too many to pick one - either Foo Fighters, Red Hot Chilli Peppers or Royal Blood

What's your favourite food?

Chinese food - especially chow mein

What is the most fun thing you've done?

Made beating heart cells in a dish

If you had 3 wishes for yourself what would they be? - be honest!

1) To have my own research lab 2) Happy and healthy family and friends 3) Completely remove the need to sleep
My profile link:
https://ias.im/u.180992
---
---
---
---
---