Profile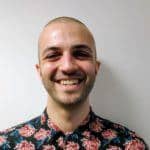 Daniel Rhodes
My CV
Education

QMUL, King's College London

Qualifications

Work History

Institute of psychiatry (KCL) – Research assistant, Institute for mathematical and molecular biomedicine – Research assistant. Tutor.

Current Job

Name of MRC-funded unit/centre/institute:

Health Data Research UK - London

My university:

QMUL
About Me:

Bioinformatician, I love problem solving at work and doing muay thai (kickboxing) in my spare time

Read more

I came to London to study at uni and have stayed ever since. I love it here because there's always something new to try, somewhere new to eat and something different to see. I'm a big music fan so I tend to go to around 2/3 gigs a month. Right now I'm mostly into electronic music, but I tend to go through phases.

I also spend a lot of my time doing Thai kickboxing. This was something I started at uni, but fell in love with and have done ever since. I even went to Thailand to train in a camp for several months. It really helps me clear my mind of work and unwind!

I used to read a lot – but as I have to read so much for work, in my spare time I prefer to rest my eyes and I just listen to podcasts instead. One of my favourites, RadioLab is science-y, but most of them are totally different and mean I get to learn a tonne of stuff outside of my normal area.

My Work:

I use programming to work out if we can use medication that already exists to treat new diseases

Read more

Drugs used to be thought of as treating a single disease, but that view has changed in the last few decades. Finding a new disease that can be treated with a drug is known as drug repurposing. I use information from a large study that is looking into which changes in your genetic code can lead to over 200 rare diseases and some cancers. I then try to find drugs that will act on those changes to help treat the disease. As I'm a bioinformatician (a biologist who works on computers) – I do this by writing code. I love programming as it makes you think about how to break problems down into their smallest parts and forces you to think logically.

My Typical Day:

Coding in the morning, reading papers in the afternoon

Read more

I'm an early riser, so most days I either start work at 0715, or have a muay thai session then. I'm most productive in the hours before 12, so I focus on coding for the morning. Then in the afternoon I'll try to read a couple of new science papers so I know what is happening in my field. I also go back over my work from the morning and try to iron out any mistakes that may have made their way in there. It's often really difficult to find them until you test your code in several different ways.

I tend to finish at around 5, then I either go home, stick on some music and make dinner, hang out with friends, or go training.

What I'd do with the prize money:

I'd want to set up an example of coding in science that can be run by kids at school

Read more

Coding is a really important skill. I'd want to run a workshop that allows kids to run their own code and then show how this can be applied to healthcare.
My Interview

How would you describe yourself in 3 words?

Inquisitive, energetic, audiophile

What or who inspired you to follow your career?

I'm not sure if there's a specific person, I just find science fascinating in general

What was your favourite subject at school?

Biology

What did you want to be after you left school?

A medical doctor

Were you ever in trouble at school?

I was really bad at focusing and rarely got my homework done on time, so mostly for that

If you weren't doing this job, what would you choose instead?

Marine biology

Who is your favourite singer or band?

Pixies

What's your favourite food?

Steak never fails to make me happy

What is the most fun thing you've done?

Scuba diving around a wreck

If you had 3 wishes for yourself what would they be? - be honest!

Not needing to sleep, being able to sing and being able to direct my own film.

Tell us a joke.

I went to find some camo trousers the other day, but couldn't find any
My profile link:
https://ias.im/u.181089
---
---
---
---
---