Profile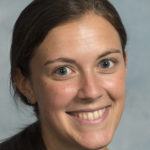 Claudia Bonfio
My CV
Education

University of Siena, IT (2008-11), University of Padova, IT (2011-13), University of Trento, IT (2013-2017)

Qualifications

BSc and MSc in Chemistry, PhD in Biomolecular Sciences

Work History

Scientist, Event Hostess, Librarian, Children's Entertainer, Babysitter, Private Teacher… not all at once =)

Current Job

Name of MRC-funded unit/centre/institute:

MRC Laboratory of Molecular Biology
About Me:

A cheerful chemist in Cambridge

Read more

I live in Cambridge, but I frequently fly back to Italy as my husband still lives there. I love ethnic food and Netflix series. And also Arwen, my wonderful black cat.

My Work:

Answering the question "Is life possible elsewhere in the Universe?"

Read more

I am trying to understand how life emerged on our planet from simple chemical reactions, so that it could be easy to know what to look for on other planets as "biosignatures" (evidences of life)!

My Typical Day:

Having coffee, thinking, reading, having tea, doing experiments, finding new ideas, having coffee…

Read more

My working day normally starts talking about projects and experiments with my colleagues and my boss. After (a bit of) reading and (a lot of) thinking, I am finally ready to start my experiments! Since I am usually more productive in the lab in the morning, I spend the afternoon analysing data, and reading old (sooo interesting!) and new scientific articles.

What I'd do with the prize money:

I would print 3D-models of primitive and modern cells to be shown in outreach events, so that you can see how we evolved from something so simple to something so complicated! And maybe offering an italian home-made pizza to all of you =)

Read more

It is always difficult to think about how modern life evolved from its primitive ancestor. Models of primitive and modern cells can be used to visualise which cellular pieces appeared earlier on our planet or could survive under different conditions elsewhere in the Universe.
My Interview

How would you describe yourself in 3 words?

Enthusiastic, curious, ... and (just a bit) stubborn!

What or who inspired you to follow your career?

My first Science teacher. She made me loving Science (and candies) since when I was 6 years old.

What was your favourite subject at school?

Mmm... Chemistry?!? (I know it looks nerdish...)

What did you want to be after you left school?

I think I just wanted to be free to choose my vocation. Then the academic world inspired me... and here I am!

Were you ever in trouble at school?

I was quite a good student =)

If you weren't doing this job, what would you choose instead?

I guess a Science teacher (I still have time to change my mind!)...

Who is your favourite singer or band?

Coldplay!

What's your favourite food?

Italian PIZZA (the real one)!!!

What is the most fun thing you've done?

Travelling with friends around the world!

If you had 3 wishes for yourself what would they be? - be honest!

Be happy, be healthy, be rich!

Tell us a joke.

Have you heard the one about the sick chemist? If you can't helium, and you can't curium, you'll probably have to barium.
My profile link:
https://ias.im/u.180975
---
---
---
---
---