Profile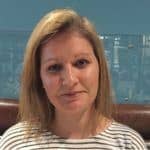 Camille Parsons
My CV
Education:

University of Southampton (2013-2018 and 2009-2010), University of the West of England (2005-2009), Cheltenham Bourneside 6th Form Centre (2001-2003), Cirencester Kingshill Secondary School (1999-2001)

Qualifications:

A doctorate (PhD) in medical statistics, an Masters (MSc) in statistics with applications in medicine, a undergraduate degree (BSc(Hons)) in mathematics

Work History:

Imperial College (2010-2011), Southampton Biomedical research unit (2011-2012)

Current Job:

Epidemiologist/statistician

Name of MRC-funded unit/centre/institute:

MRC Lifecourse Epidmiology Unit

My university:

University of Southampton
About Me:

I do the maths to help doctors understand what makes our bones and muscles grow and become strong for life….from pregnancy through to old age

My Typical Day:

My typical day starts with a cycle and a train ride, then some number crunching (statistics) before speaking to some rheumatologist (bone doctors) and then heading home

Read more

My typical day starts with a 9 mile cycle and a 30 minute train ride, then I head to my desk where I go through any new emails. The majority of my day will be spent doing statistics or writing up our research. Often I will spend some time talking to other members of our research team which is made up of Professors, rheumatologists (bone doctors), statisticians (me) and research assistance. Then I will head home, where I will have a sail (if a Wednesday) or walk to the beach.

What I'd do with the prize money:

If I won I would spend the money on bones!
My Interview

How would you describe yourself in 3 words?

Sporty, enthusiastic and friendly

What did you want to be after you left school?

lawyer

Were you ever in trouble at school?

May have had one or two detentions but otherwise your average student

Who is your favourite singer or band?

Coldplay or anything I can sing to at full volume :)

What's your favourite food?

Anything with pasta and cheese, so macaroni cheese is my heaven!

If you had 3 wishes for yourself what would they be? - be honest!

1) to have a puppy that never grew up, 2) for the weather to be either sunny or snowy everyday (no more grey clouds and rain!), 3) to have enough money to travel the world and see all the amazing sights

Tell us a joke.

What's a Pirates favourite cheese? Chedd-AAR (so hard to pick my favourite cheese joke!)
---
---
---
---
---
---