Profile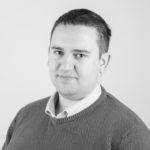 Ashley Akbari
My CV
Education

Cardiff University 2003-2007, Olchfa School Swansea 1996-2003

Qualifications

MSc Data and Information Fusion, BSc Computer Science

Work History

Current Job

Senior Research Manager & Data Scientist

Name of MRC-funded unit/centre/institute:

Health Data Research UK - Wales and Northern Ireland

My university:

Swansea University
About Me:

33 year old, living in Swansea with a passion for research and data science

Read more

I live in Swansea with my wife and two children (1 and 3 years old) and our cocker spaniel Archie. I enjoy taking walks with the family and enjoying the countryside. I like to play games online and catching up on favourite shows on TV, and really enjoy going to the movies. I like to play Cricket and going down to watch my local rugby team the Ospreys.

My Work:

I am a Senior Research Manager and Data Scientist at Swansea University, Health Data Research UK – Wales & Northern Ireland (HDR-UK), ADRC-Wales & MS Register. 

Read more

Experience of working on a variety of data linkage and research projects. Background in computing and various research disciplines which have evolved over time with his experience of working with anonymised data within SAIL Databank since 2008, as well as other data from the UK nations, and as part of projects with collaborators including those in the FARR Institute, Prudent Healthcare Intelligence Hub, IPDLN and with the NHS. Works with analysts and researchers in both the development and pursuit of their project's and research, and supports their continued development and training.

My Typical Day:

Mon – Fri 8-5 (and some times a bit more in the evening or weekends)

Read more

Usually drop kids off at school/nursery, into work by around 8ish for 1st coffee of the day – then variety of meetings and activities through the day until I head home around 5ish.

What I'm doing for the MRC Festival:

Swansea will be hosting the Science Festival the weekend of 8th – 10th September 2017, which is a free free science festival in partnership with the National Waterfront Museum; the largest festival of its kind in Wales.

We we a part of the British Science Festival and Family Festival, which was held in 2016 and  are hoping to play a role again this year showcasing some of the work and ideas we have from our many research programmes and projects.

What I'd do with the prize money:

Showcase some of our Data Science activities

Read more

All the research we do is supposed to have an impact back to people's lives and the services they receive – and we try to both include as many people in that via our engagement activities and how we communicate them after they are completed – any chance to bring more people in to inform that process, but also think about the next generation of data scientists would be perfect.
My Interview

How would you describe yourself in 3 words?

Collaborative, Curious, Enthusiastic

What or who inspired you to follow your career?

Always enjoyed being presented with all the information and finding the answer

What was your favourite subject at school?

All the Sciences

What did you want to be after you left school?

I just wanted to enjoy university and leave my options open

Were you ever in trouble at school?

Not really, although my teachers may have something else to say about it?

If you weren't doing this job, what would you choose instead?

Always liked others sciences, so another cutting edge field

What's your favourite food?

Anything with a bit of spice

What is the most fun thing you've done?

Getting married, and having a wonderful trip with my wife around the Caribbean

If you had 3 wishes for yourself what would they be? - be honest!

Clone myself so i could do more, more trips and holidays with my family, see more of my friends more often
My profile link:
https://ias.im/u.180996
---
---
---
---
---