Profile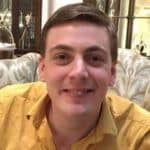 Alex Haragan
Well its been a fun month! Hope my essay answers helped a few people out. Congrats to the winner. Now to finish my work before a sunny weekend!
My CV
Education:

University of Aberdeen, 2005-2012, University of Glasgow 2015-2016, University of Liverpool 2017-present

Qualifications:

BSc. (Hons.) First Class (Biomedical sciences), MBChB (Medical degree), MSc. Distinction (Stratified medicine)

Work History:

Various hospitals including south and north Wales, Glasgow hospitals, Merseyside and the Wirral.

Current Job:

Pathologist and clinical fellow (MRC researcher)

Name of MRC-funded unit/centre/institute:

Institute of translational medicine, University of Liverpool

My university:

University of Liverpool
About Me:

A climber, mountain biker, kayaker, hill walker and general lover of the outdoors who spends his work time helping to cure lung cancer.,

Read more

I currently live in Liverpool, but have studied, worked and lived all over the UK, from East Sussex to Shetland, Wales to Glasgow. I am happiest when outdoors, and am particularly fond of the "extreme" outdoor sports, though I am not as fearless as I was!

White water kayaking, rock climbing (particularly bouldering), hill walking, skiing and mountain biking are my favourites, but I am happy to try anything: sky-diving, caving, scuba-diving – if it looks like fun I will give it a go!

I live with my girlfriend (a semi-professional climber) and we will be getting a new dog to stay with us and come outdoors when we do.

When not outdoors I have been known to spend many a good evening playing computer games. I haven't bought a new game in years but I reckon I could still beat anyone at a game of C&C Red Alert 2!

Read more

OK so I said I'm a doctor and that is true! But specifically I'm a pathologist – so I'm not who you would see at a GP or even if you came into hospital.

It doesn't mean I work on the TV series CSI either! (although I have some friends who do something similar).

In fact my work as a pathology doctor involves taking lungs that have come from patients with cancer and using the information from them to guide other doctors, surgeons, cancer specialists and the patients to the best treatment options.

My own research focuses on a new style of drug used in cancer.

Simply put – these new drugs use the immune system to fight cancer. Normally the immune system fights infections like bacteria or viruses – but clever drugs gets them to fight cancer instead.

These drugs can work well but they aren't perfect – so my research looks at ways we can make these better!

My Typical Day:

No two days are ever the same – but broadly, a pleasing mix of clinical work, research in the lab, meetings, writing, talking and chatting with colleagues.

Read more

Most mornings I'll get up, enjoy a big breakfast (my guilty pleasure is chocolate cereal) and cycle into work.

After saying hello and catching up with everyone, I'll check my pigeonhole to look for any clinical work, and (hopefully quickly) go through any emails I have.

After this, no two days are ever the same – I might be spending the day in the labs preparing sections of lung for further work, perhaps staining them with specific antibodies. Or I might be scanning in lung cancer images and using digital image manipulation as part of my research.

I might be focused on my clinical work – diagnosing and identifying lung cancer from hospital patients and helping other doctors like oncologists and surgeons to form the best plan.

There are always plenty of meetings and events to prepare for and attend. Occasionally I get to present my work at big international events like World Conference on Lung Cancer – this year being held in Canada!

The days are busy but interesting, and the variation is very important to me. I will finish off by making a well deserved cup of tea, double checking those emails, and making sure I have completed what I wanted to for the day, and having a good plan for the rest of the week.

After this – a cycle home with hopefully enough time in the day to go down to the local climbing centre for an hour or two!

What I'd do with the prize money:

To increase awareness of how the immune system can fight cancer and why drugs that help do this are so important
My Interview

How would you describe yourself in 3 words?

Inquisitive, unconventional, enterprising

What did you want to be after you left school?

I wanted to make help research cancer but had no idea how! I went to University to find out.

Were you ever in trouble at school?

All the time! Mostly minor things but I did once set off fireworks in the main hall....

Who is your favourite singer or band?

Depends on the mood - Kiss put on one of the best shows I've ever seen, as did Radiohead. Children of Bodom I listen to a lot, but for office work something like London Grammar is great.

What's your favourite food?

Curry! Of every type.

If you had 3 wishes for yourself what would they be? - be honest!

To stay in a job I love (I've done jobs I don't enjoy and there is little worse). To stay healthy and fit enough to do the sports I love. To keep having and making new great friends (and of course my lovely girlfriend!) If you enjoy your work, your time off and your friends - I think life is going very well for you.

Tell us a joke.

I'd tell you the joke about a very high wall... but you'd never get over it.
---
---
---
---
---
---