We can't believe the third week of the MRC Festival Zone is over — that means there's only one week left to ASKquestions and VOTE for your favourite scientists!
Once again, this week we've been scanning live chats, questions, comments and answers for more great moments from you and the scientists. In no particular order, here they are below and you can leave a comment yourself about your favourite bit of taking part in the MRC Festival Zone!
1. The fire-breathing dragon and the Californium Zone scientist
Claire says "clearly they would grind their teeth together to create a spark and then spew a flammable chemical from special stores in their throat. The chemical would be ignited from the spark and come out its mouth as fire."
This question was so great, a scientist from the Californium Zone decided to visit! Ella, who is taking part in I'm a Scientist, left a comment to tell everyone how much she loved the question.
2. Did we mention this one before? No? Could've sworn we had…
As Lauren explains, déjà vu is "the weird feeling you get when you think you have done something before, it is like you remember doing exactly the same thing you are doing at that moment.
But why does it happen? Claire might have remembered it right…
3. Yes, Hannah, it is too soon #RIPHedwig
😭
4. Catnip? More like CatNOPE
According to Liza, it's all in the genes. If your cat's parents were affected by catnip, then it's likely your cat will be too. This is also a great question because we now get to post a cute cat & catnip GIF.
5. Another student winner!
nscott123, congratulations! You win a £20 voucher!
In the chat, they asked Lauren a thoughtful question about why she thinks it's important to properly diagnose people with mental health problems and how she prevents people from being wrongly diagnosed. nscott123 also asked Millie about her research into bones and muscles, and whether eating fast food can hinder the development of children's muscles.
Each week the scientists taking part in the MRC Festival Zone nominate their top students who've made the most of the event, shown enthusiasm and asked some really great questions.
Want to be in with a chance of winning in the final week? Keep ASKing the scientists about their work and join in the next evening chat, 7-8pm, Wednesday 27th June….
6. No teachers needed, just mutant mice

On Wednesday evening , 11 scientists and 23 students and their families got to have an extra after-school chat. If you missed it, don't worry, there's another evening chat this Wednesday coming for everyone to be part of! Just log in to the zone between 7-8pm and go to the CHAT page for another chance to get to know the scientists and support staff.
7. Getting DEEP
We loved this thoughtful question about the ethics of living forever (and got that old Queen song stuck in our heads). Jason responded in detail, "You bring up a very good point about the problem of overpopulation – this should be a priority over the notion of infinite life. We need to figure out how to maintain our environment, secure our food and water resources, figure out how to promote clean and green energy" 🤔
8. Extra chances to VOTE in the Bonus Zone Challenge!
With just a week to go until the MRC Festival Zone Winner is announced, the scientists need all the help they can get. So we've challenged them to say what they do using just one sentence and win more VOTEs from you!
Judge the One Sentence Challenge here→ 
Every LIKE is a new VOTE for your favourite scientists. We recommend liking the ones which make you go:
9. And finally, Helen can do this…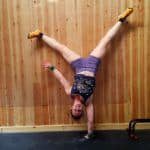 !!!!!!!!!
See you next time for more MRC Festival Zone action. We can't wait to see what you ASK over the weekend and who you VOTE for as we countdown to the final next Friday!